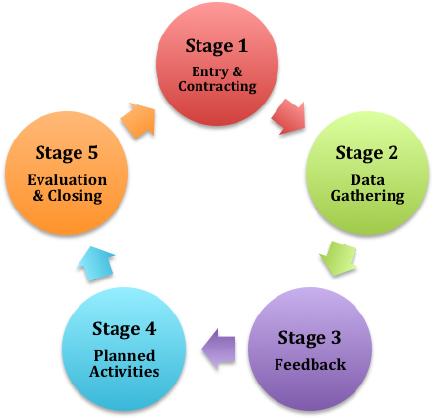 First, you and a CLOC consultant will discuss your organization's needs and desired outcomes. After that, we will identify one or more consultants to work with your group. Then you can expect: 
Step 1: Contracting. The consulting team will have an in-depth conversation with you to explore ways to define and reach your goals. Once the basic shape of the project is identified, we send you a detailed proposal outlining the consulting engagement steps, timeframe, and estimated cost. 
Step 2: Data Gathering. In collaboration, we identify those who have knowledge necessary for the process. Methods vary and might include: individual interviews with everyone or with a representative sample, focus groups, or surveys. Data are reported back anonymously.
Step 3: Feedback. The consulting team organizes the collected information into a format that helps you and the team to determine productive, engaging group activities. Feedback is always shared privately with you first and then with the members of your team, so that everyone has the same information.
Step 4: Planned Activities. The consulting team designs and facilitates targeted and structured conversations designed to move the group forward.
Step 5: Evaluation and Closing. A final meeting between you and the team is used to evaluate progress toward meeting the goals. 
Coaching CLOC's work with individual clients follows a similar process. Coaching is driven by client goals and outcomes, and usually contracted for and scheduled as a package of six to eight sessions. Clients can also contract for data gathering, allowing consultants to collect feedback from supervisors, peers, and subordinates. At the conclusion of the contracted series of sessions, progress toward goals is evaluated.